We are opening up cabins for a second season of two-week retreats from October 2022 through April 2023 to support our continued transition into a more formal arts/ecology non-profit.

Read through all of the details below - information to email inquiries is at the bottom.



We have found the two week visit to be the optimal amount of time, to slow down, become familiar with the place and it's rhythms, to quiet the mind, and really be present on the land. (The co-founder of the original Salmon Creek Farm commune in 1971 and professor of ecopsychology, Robert Greenway concurred. He would lead students on two week wilderness excursions and then evaluate the therapeutic effects.) This may be a time to take a step back for some critical distance from daily life, a chance to create something new, or even a pause from projects and productivity altogether.

We are in Albion, on a 33 acre ridge top and south-facing slope, two miles from the coast, and 25 minutes south of the village of Mendocino. Living here under the coastal redwoods is humbling, and SCF is an especially good spot to feel your small place in the big cycle of life on earth. The cabins are wood-heated, we harvest and chop our own firewood, so you should be comfortable starting and keeping a fire going to stay warm. (Though in our coastal climate we only occasionally get down to a night-time frost in the winter). We turn human waste into rich soil, so you should be down with our humanure outhouses, featuring sawdust lined buckets which you empty into a nearby compost pile where, through miraculous alchemy, it is turned into black gold. We collect and treat our own spring water which is gravity fed to all of the cabins from the top of the ridge. We strive for zero waste, shop for minimal/no packaging, compost zealously, and for many reasons SCF is strictly vegetarian (fyi many carnivorous visitors have found it to be a helpful place to experiment with a fully plant-based diet for the first time).

Each of our modest homespun cabins occupies a unique secluded nook in our south-facing wooded slope. They were lovingly built, rebuilt, repaired, furnished, and embellished by many hands over the years with scavenged local materials. They are cute, cozy, comfortable, well appointed, and pretty rustic (ie. an occasional mouse may find it's way in and something will have to be done). All cabins have fast wifi, outhouses, full kitchens, hot water, wood burning stoves, cozy beds / bedding / pillows / comforters, and outdoor showers.

Once on the land we put everone on a whatsapp party line, where guests can all be directly in touch with each other, to announce communal meals, invite each other over, ask for help with something, organize an event, say "hey I'm going to town in case anyone needs anything," etc. Resident SCF Hosts-Caretakers Jackson and Sam coordinate your arrivals, receive you at the front gate, guide you through life on the land, offer tips for fire-keeping, suggest activites on the coast, and generally make everyone feel safe, welcome, and at home. 😘️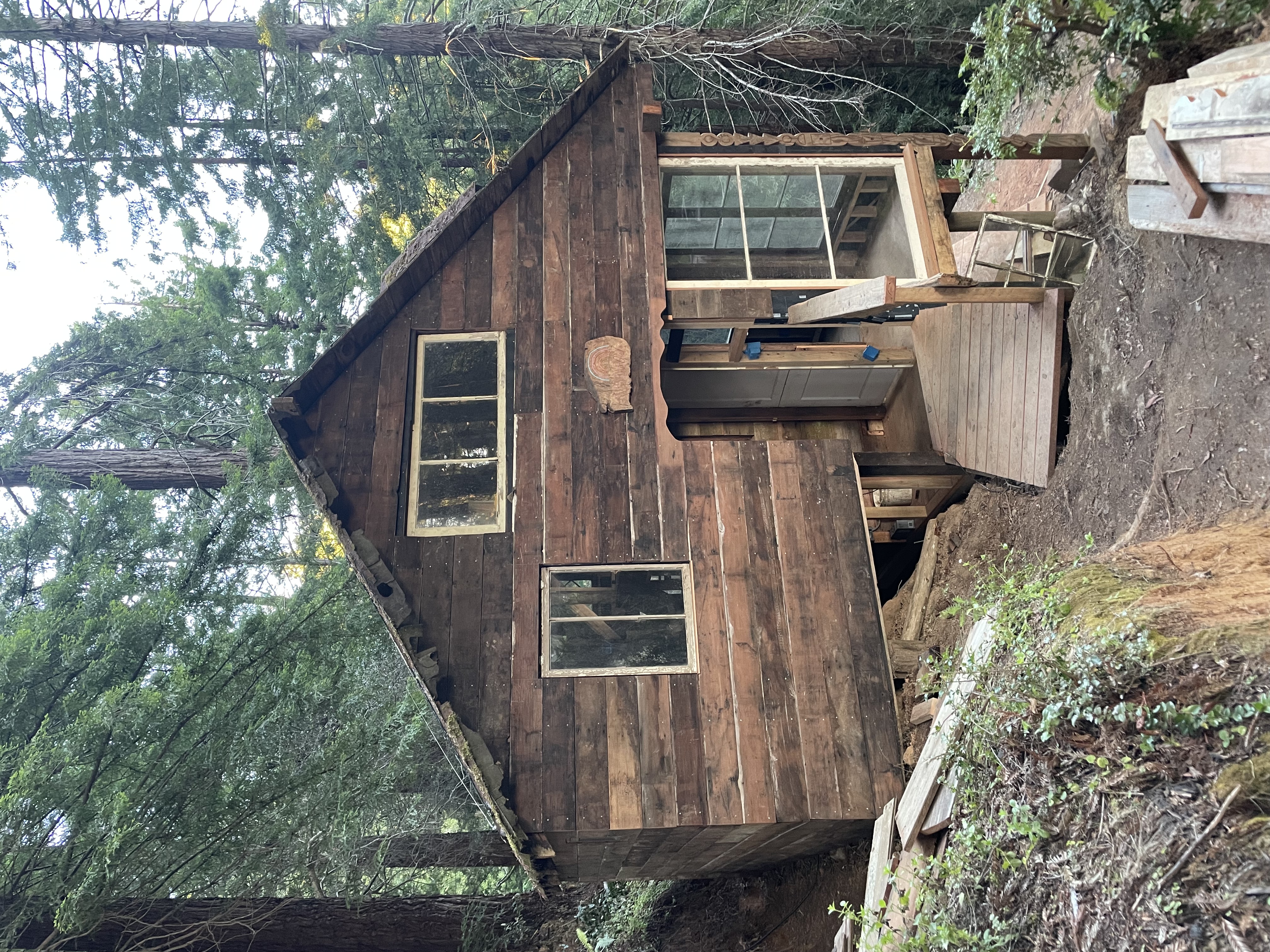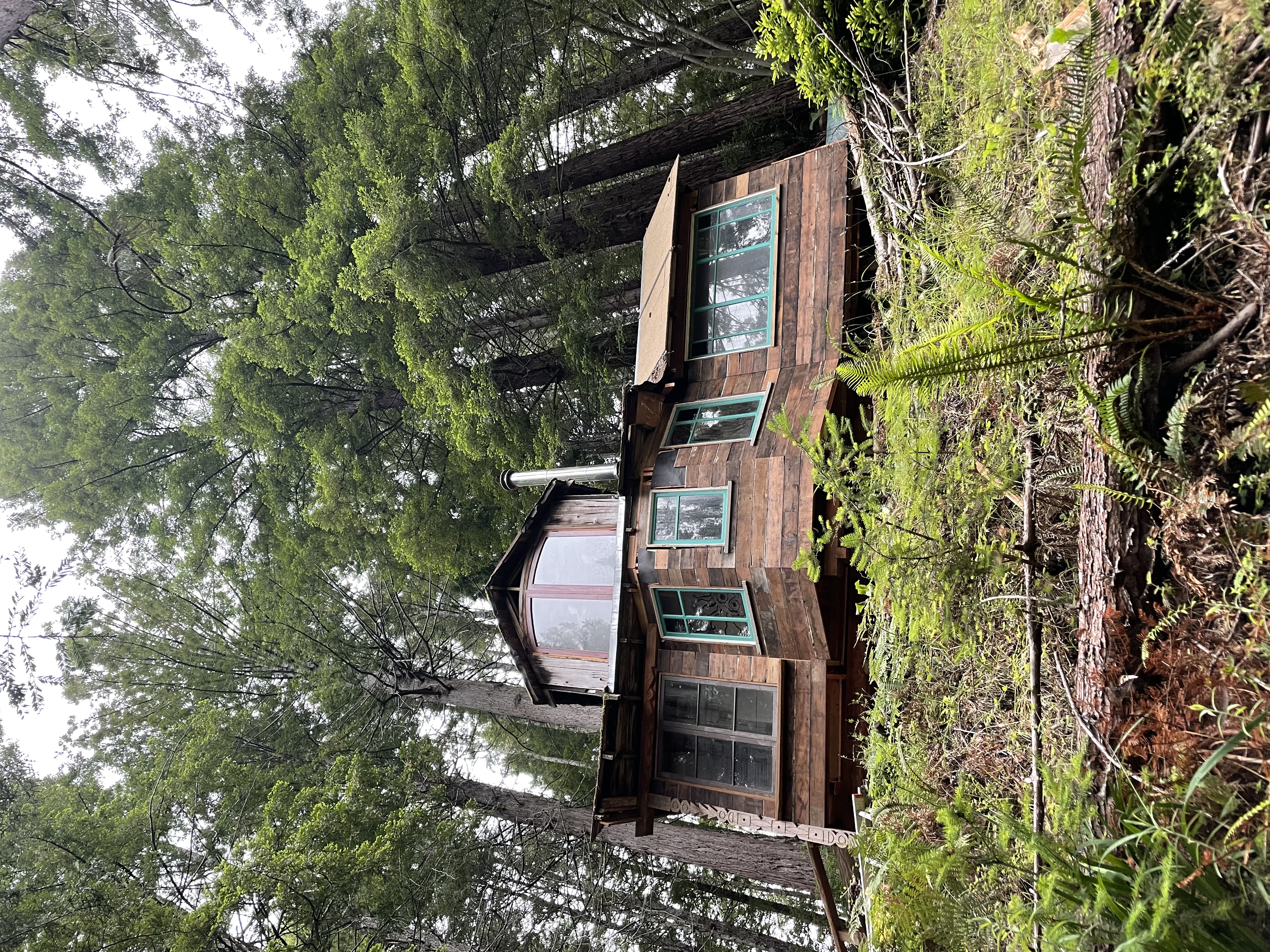 Cabin 2 Rainbow: Freshly renovated by over 50 folks in summer 2022 during 2 months of skill-sharing barn-raising work-partying, this cabin occupies a prime spot in the center of the land. Three levels step into the hillside offering a kitchen wing & cozy wood stove seating circle below, work/dining table & sleeping nook in the middle, topped by sleeping loft under an arched dormer window and a vaulted ceiling. An enclosed outdoor bathing area provides a sanctuary space under the redwoods. Two double beds and one twin offer space for up to three people. $3000/two weeks. (recent pics to come, post-construction)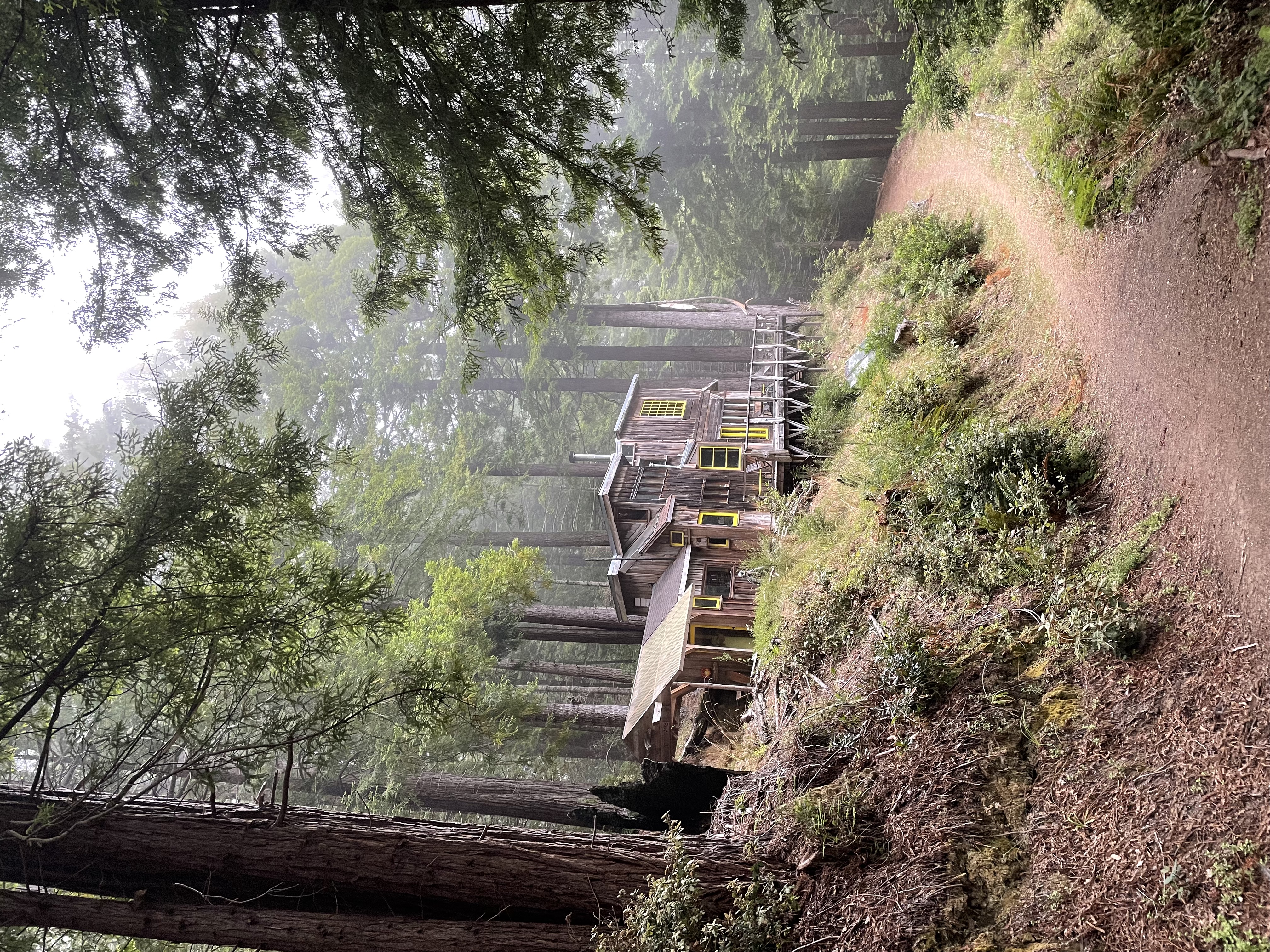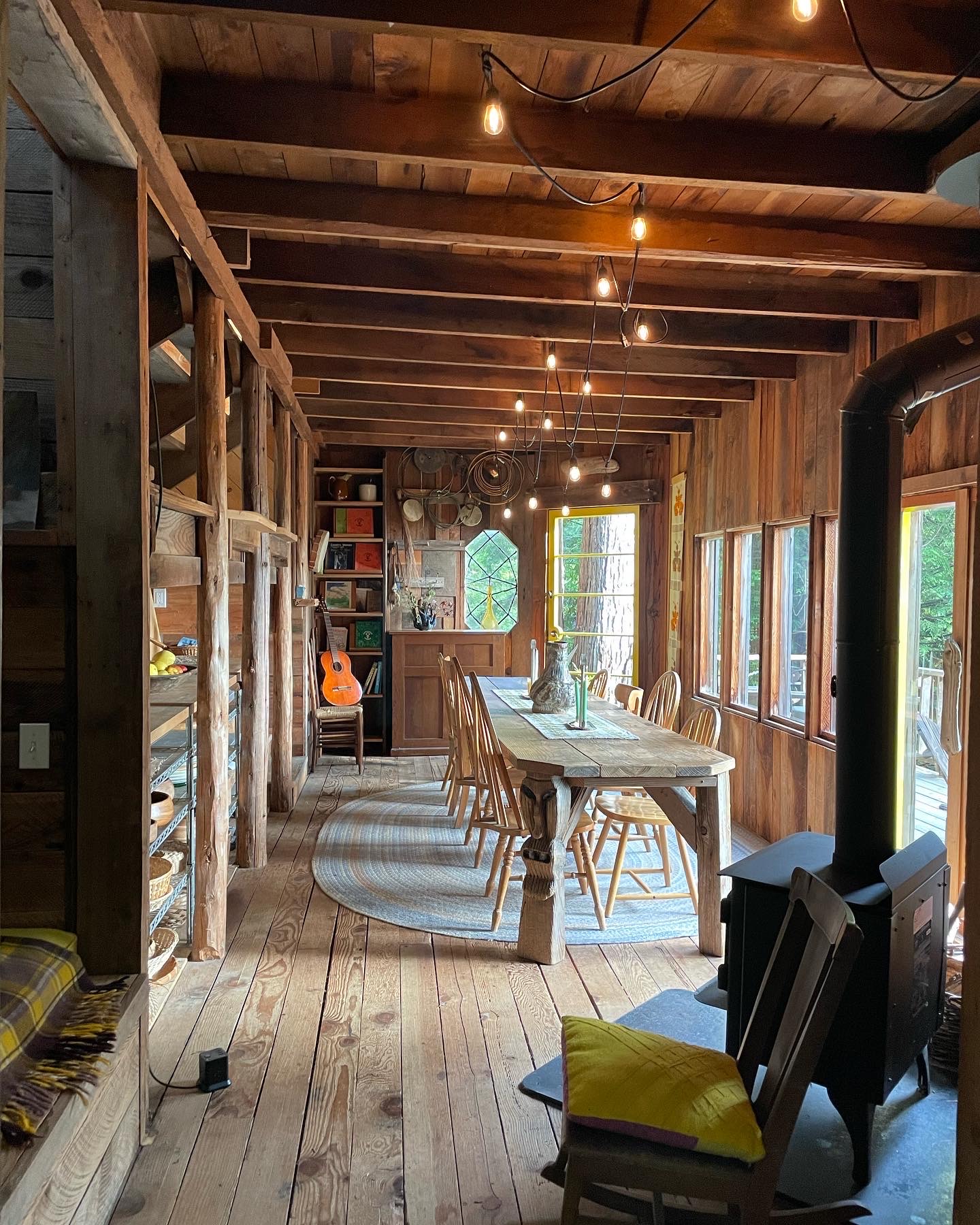 Cabin 3 Dawn: Sunny and open location at the top of the hill overlooking the view across the valley, with a welcoming front porch and vestibule followed by a large kitchen, communal dining hall, open lounge above with full and queen size beds, bedroom reached by separate stairs with full size bed, and large south facing wood deck. Up to three or even four people. $3500/two weeks. (recent pics)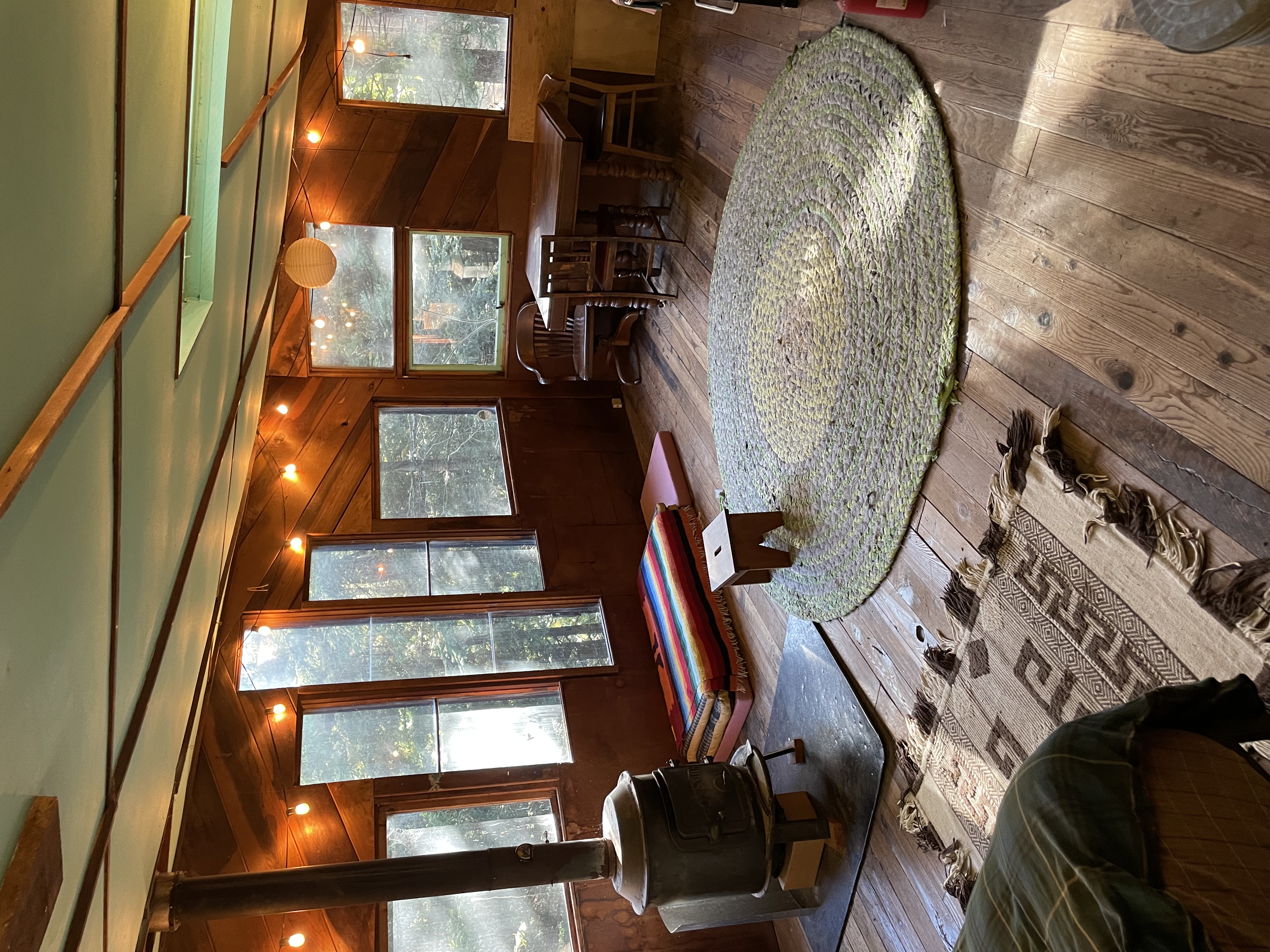 Cabin 4 Moonlight: Built by former communard and current neighbor/friend Moonlight to woo Sharon, now his partner, with a big open space where they could dance. It's in the most private corner of the property, at the highest point, offering dappled light throughout most of the afternoon. There is a queen size bed, a full kitchen, a scenic outdoor shower, and an outhouse with a great view. For a single or couple. $1750/two weeks. (recent pics)


Cabin 5 Walden: In a secluded cool valley of ferns above the feeder creek, with a small kitchen/sitting area on the ground floor and up a ladder to the nicest bedroom on the land, with vaulted redwood ceiling, windows on three sides, plus a back deck with outdoor shower. For a single or couple. $1750/two weeks. (recent pics)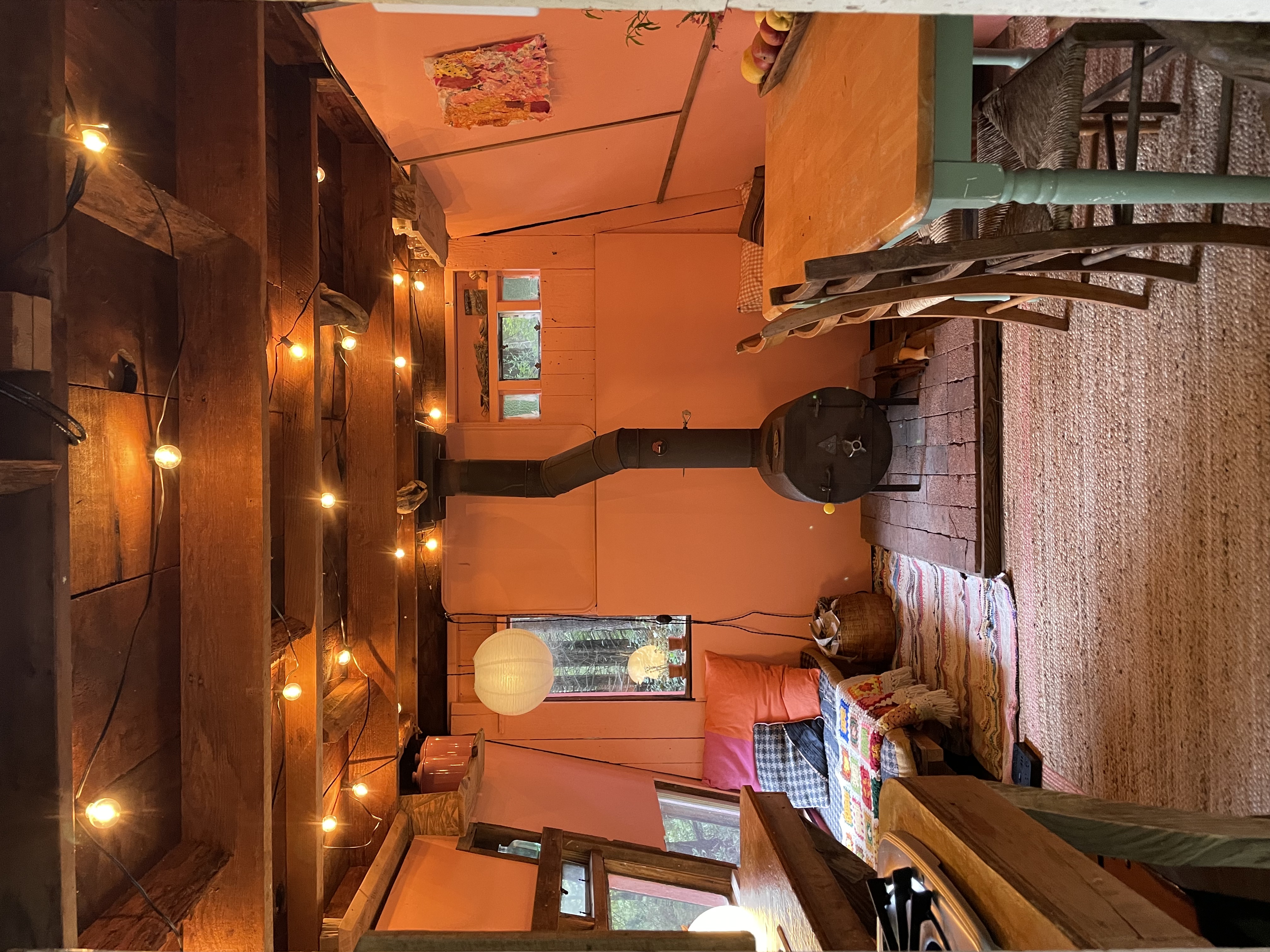 Cabin 6 River: The most funky and photogenic, situated in a sunny clearing down the hill, with small outdoor terrace and tub, leading to a low ground floor kitchen/lounge, and ladder up to a charming pink bedroom that somehow has 15 windows, plus skylight over the bed and tiny Juliette balcony. Very chic new outhouse. For a single or couple. $1750/two weeks. (recent pics)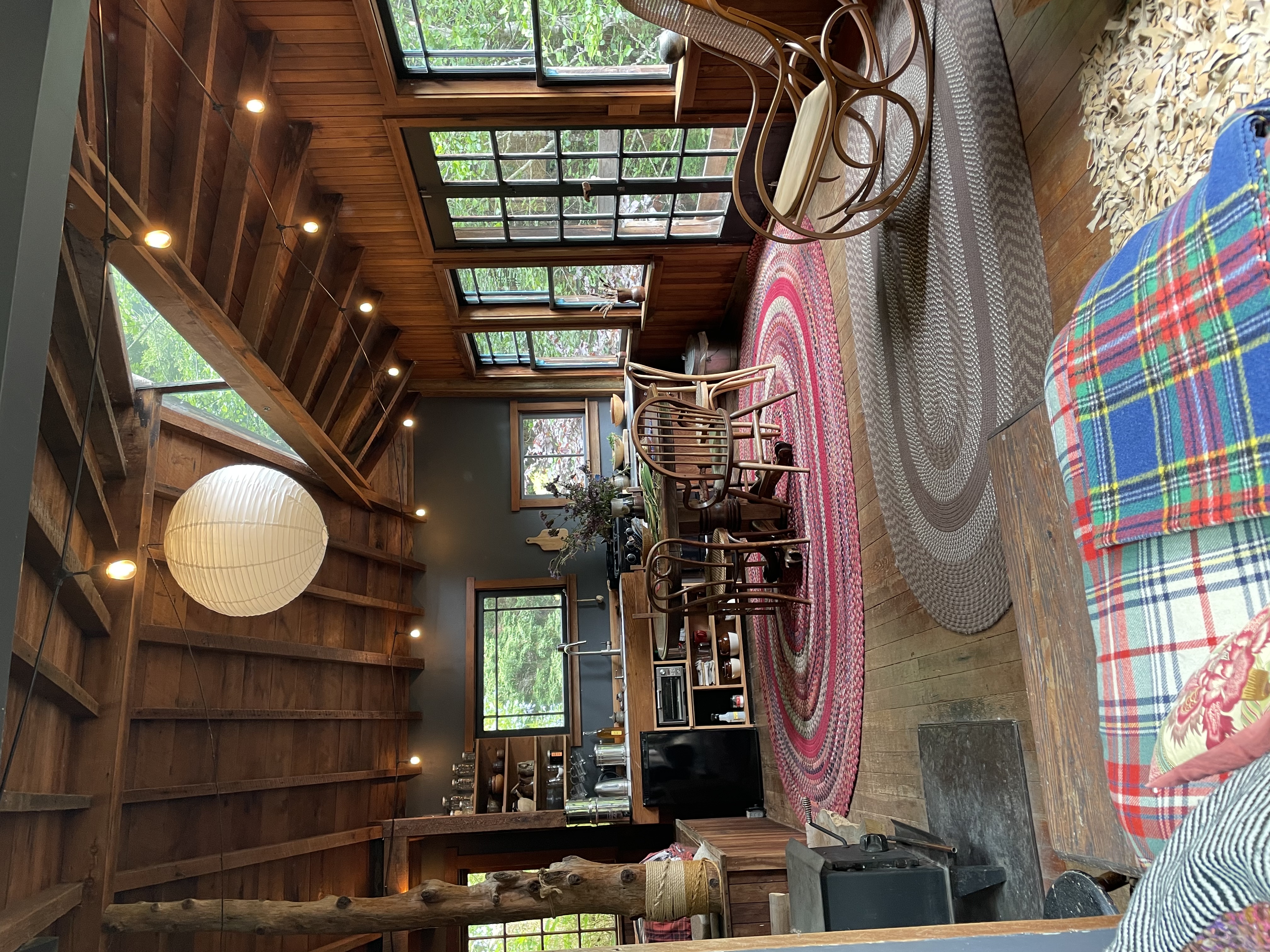 Cabin 7 Cedar: A most secluded and special spot, beautifully vaulted irimoya hip and gable roof, large open space with 3 beds in 3 separate nooks (queen, full, and twin), big oak dining table, spacious study desk under a skylight, windows on three sides letting the afternoon sun pour in, picturesque outdoor bath tub, and washer/dryer. $3000/two weeks. For a single, a couple, or even three friends.(recent pics here & here)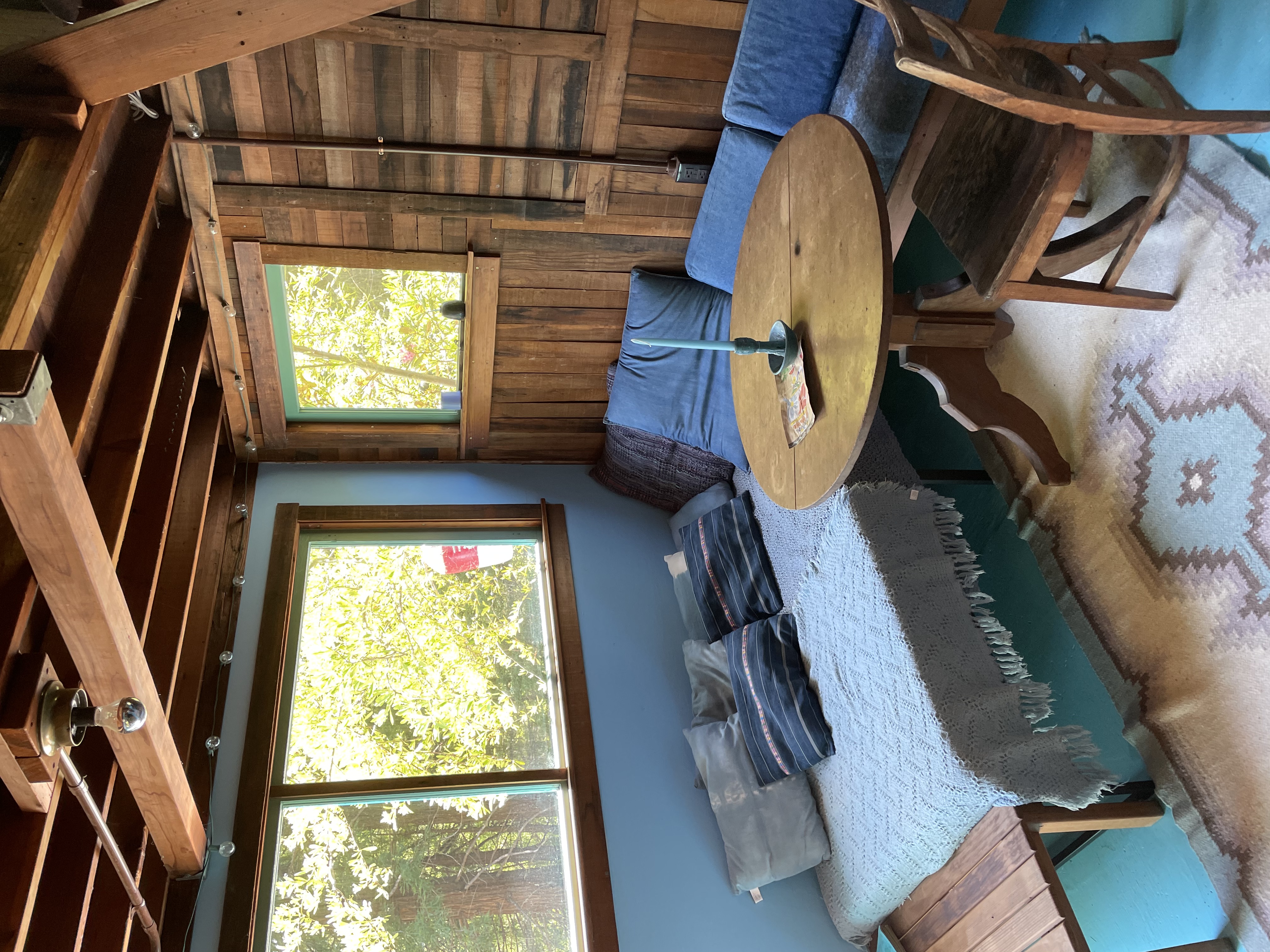 Cabin 8 Salmon: Built by 13 year old communard Salmon in the early 70's, it's as cute as ever with new triangular south-facing wood deck, efficient cozy interior, with twin bed as cushioned seating for extra sleep space downstairs, and queen bed up in a very low kid-height sleeping loft. For a single or a (close) couple. $1500/two weeks.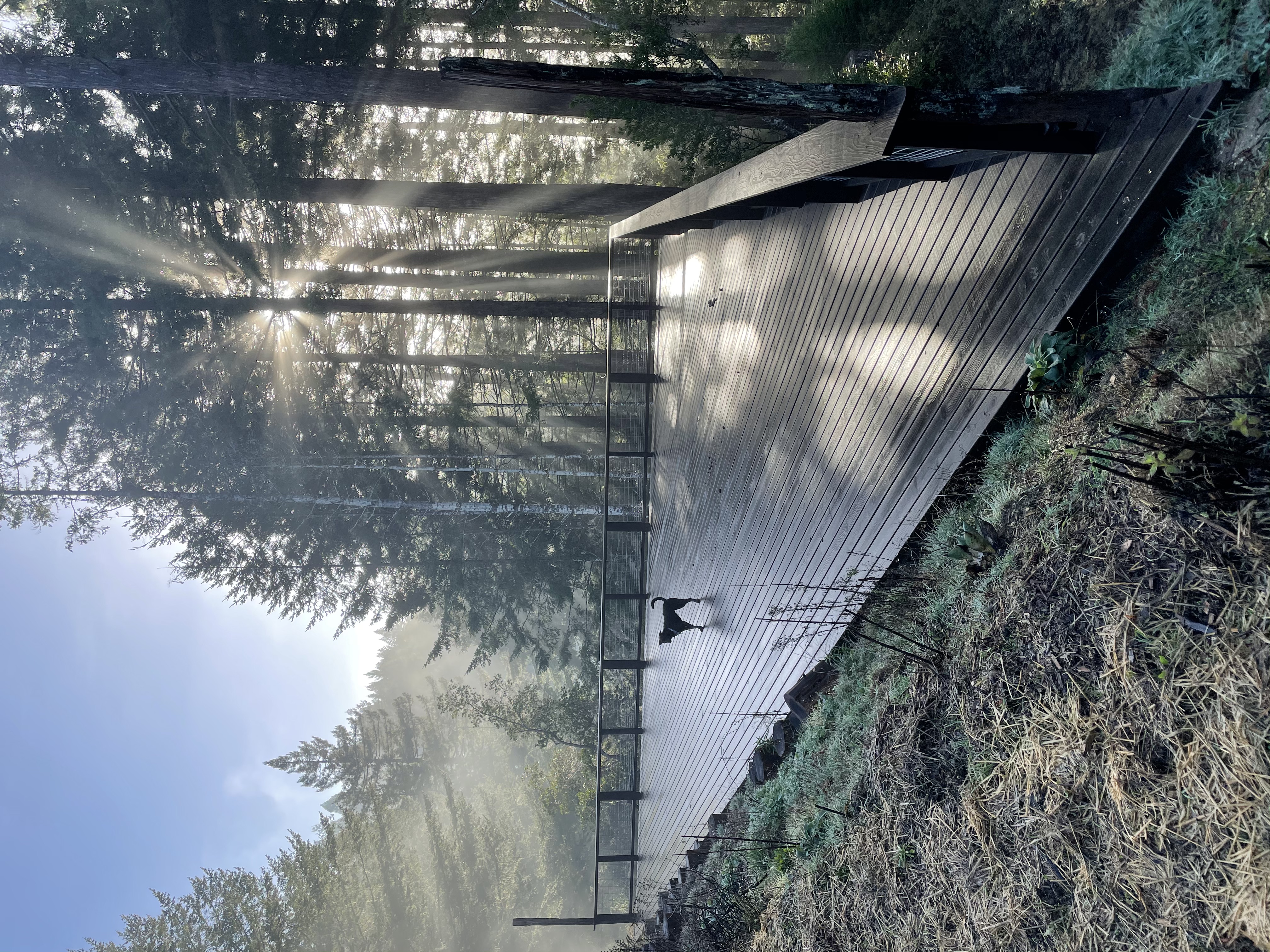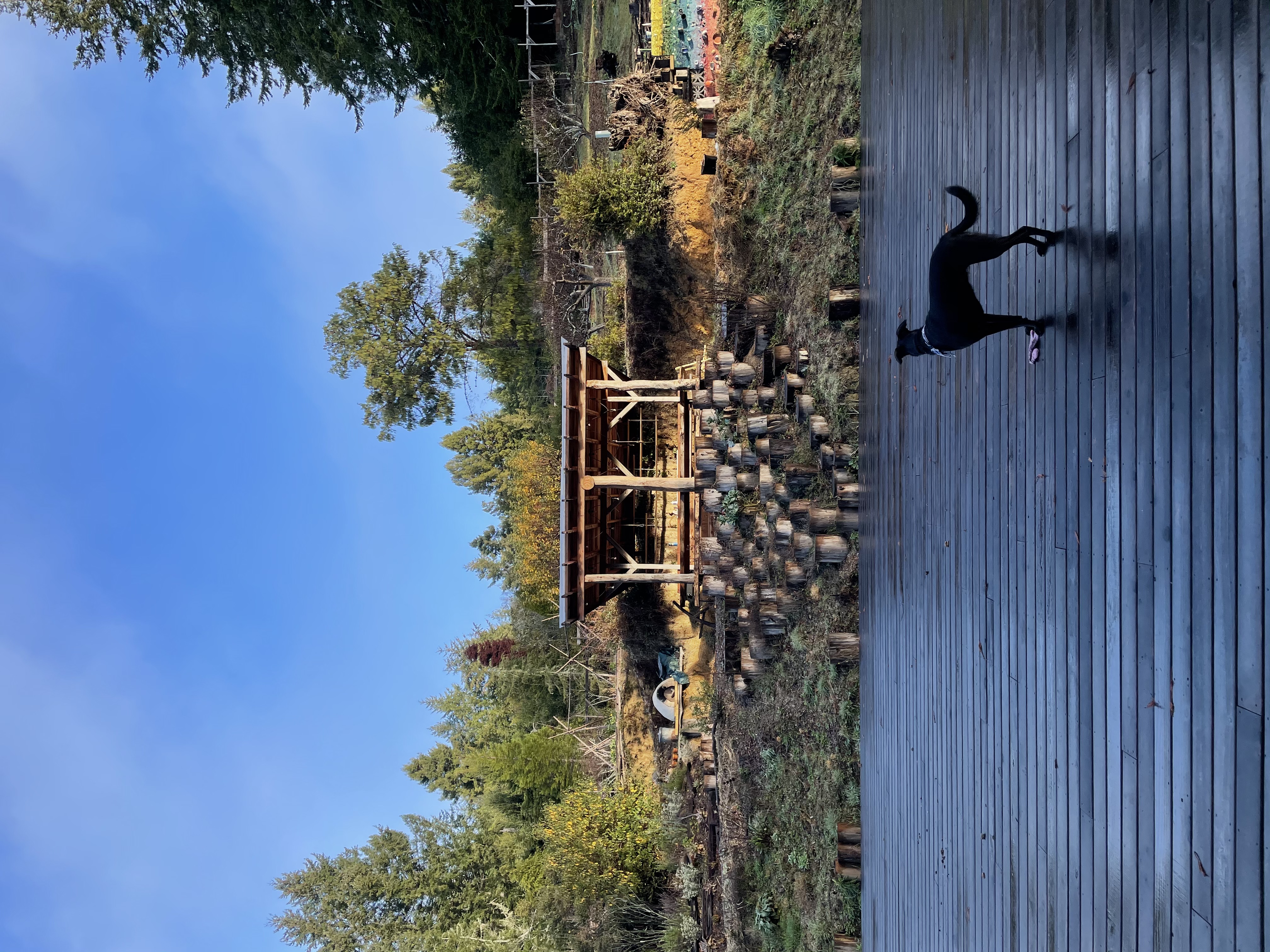 Also open to all guests: communal outdoor kitchen/dining with 16' table, 1800sf triangle dance deck (stretching, moving, meditating, yoga, snoozing, etc.), communal washer/dryer, the 7' wood-fired hot tub (on occasion), and hiking trail down to Salmon Creek that borders the property.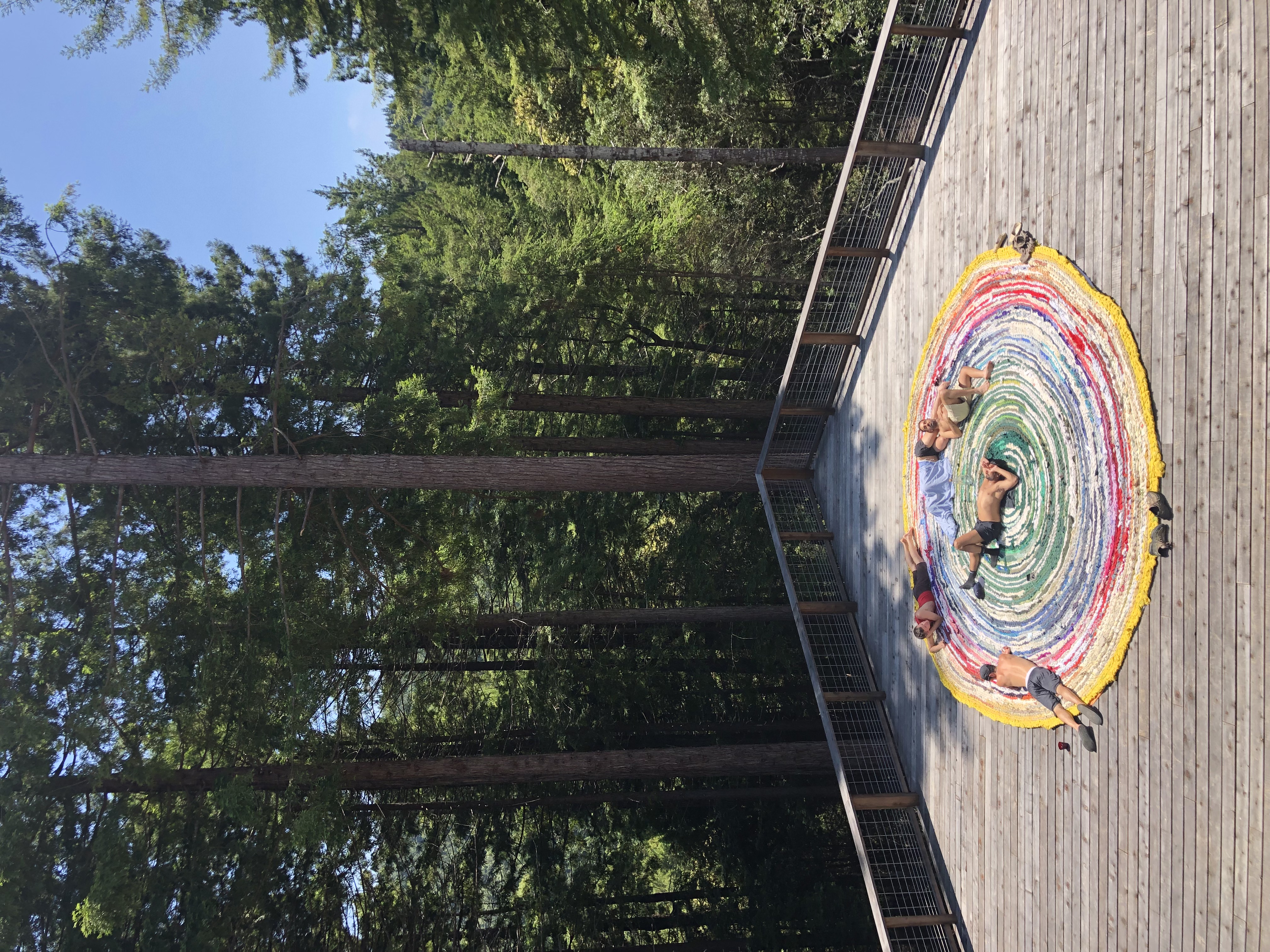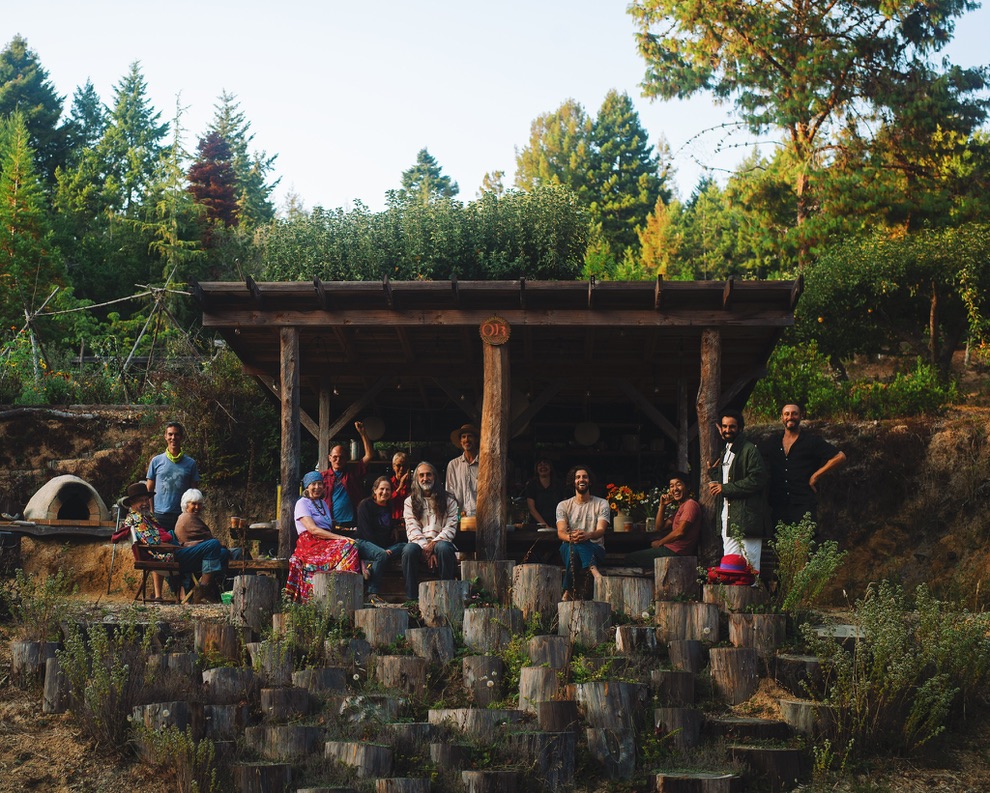 Cabin contributions during this period support pressing repair and construction projects, free/low-cost summer arts/ecology programming, our resident staff, and generally keeps SCF afloat for the rest of the year when there is no income. We do not offer work/trade arrangements during this period, but follow our Ig feed for occasional announcements about other ways to visit.

Please note:
- All guests must be fully covid vaccinated.
- So sorry, but no pets, even though we absolutely adore them.
- There are accessibility issues, with cabins reached exclusively by footpaths through the woods.
- Arrivals are *exclusively* on Sundays from 2pm until an hour before twilight.
- Monday mornings we lead a comprehensive 1.5 hour tour of the entire property, including visits to all cabins and a hike down to the creek. This also serves a chance to meet the entire group and a critical/compulsory orientation to life on the land (outhouses, compost, firewood, making & tending fires, etc).
- Fridays we gather for potluck meals at the OK (Outdoor Kitchen).
- Departures are on Saturdays before 11am.

Cabins are first made available to the SCF community, then to a waitlist that has been growing over the past year, and finally to selections from open applications. We try to schedule guests we think would enjoy meeting and sharing the land, so let us know about your interests and how social / solitary you might want to be.

For a SCF Retreat, write 2022(at)salmoncreekfarm(dot)org with a bit about yourself(s), your interest in visiting SCF, how you might spend your time, your preferred cabin, and your available 2-week periods in order of preference. Sunday arrival dates: Oct 2, 16, 30, Nov 13, 27, Dec 11, Jan 1, 15, 29, Feb 12, 26, Mar 12, 26, and Apr 9.



ALSO available, Gardenseal Ranch...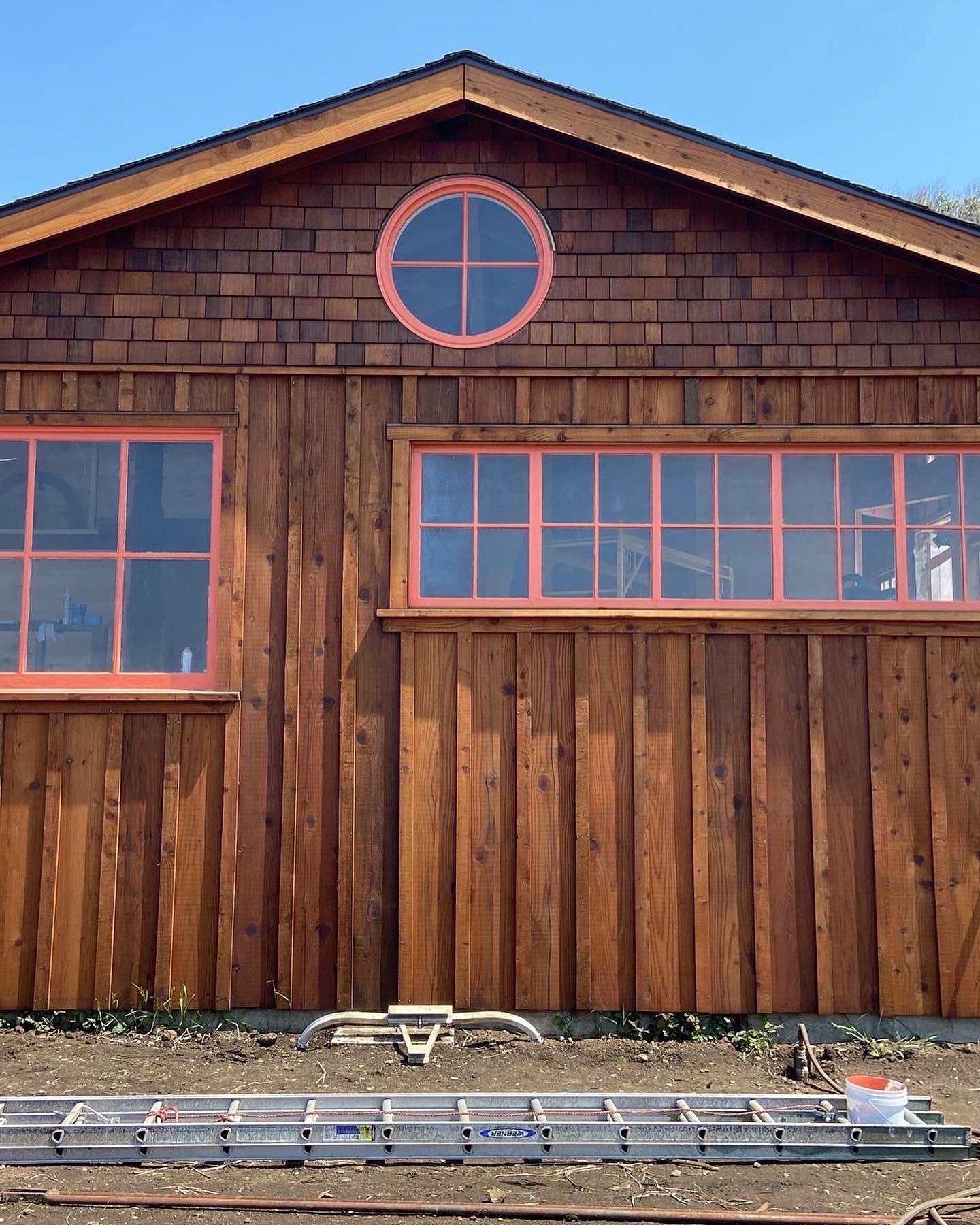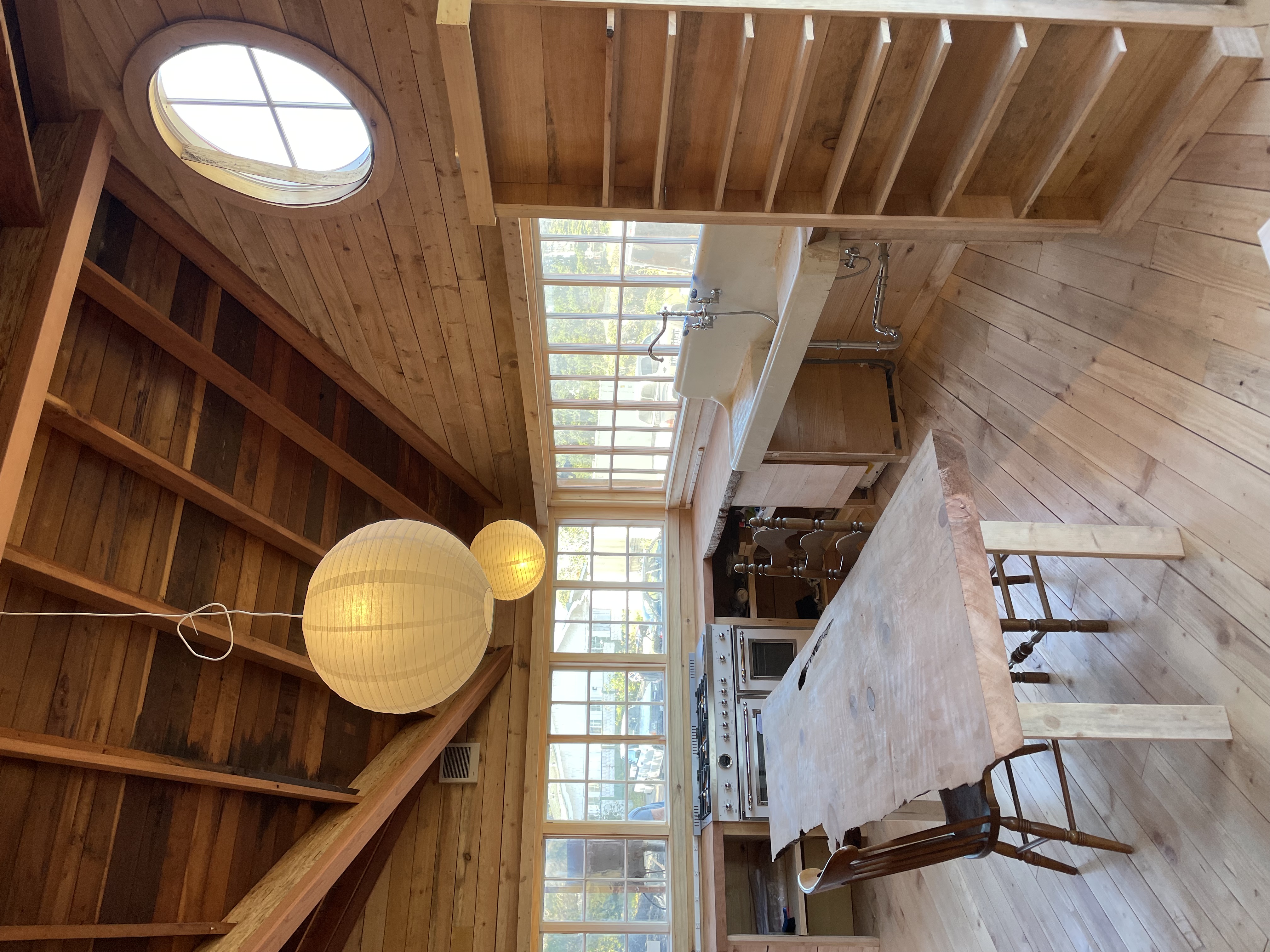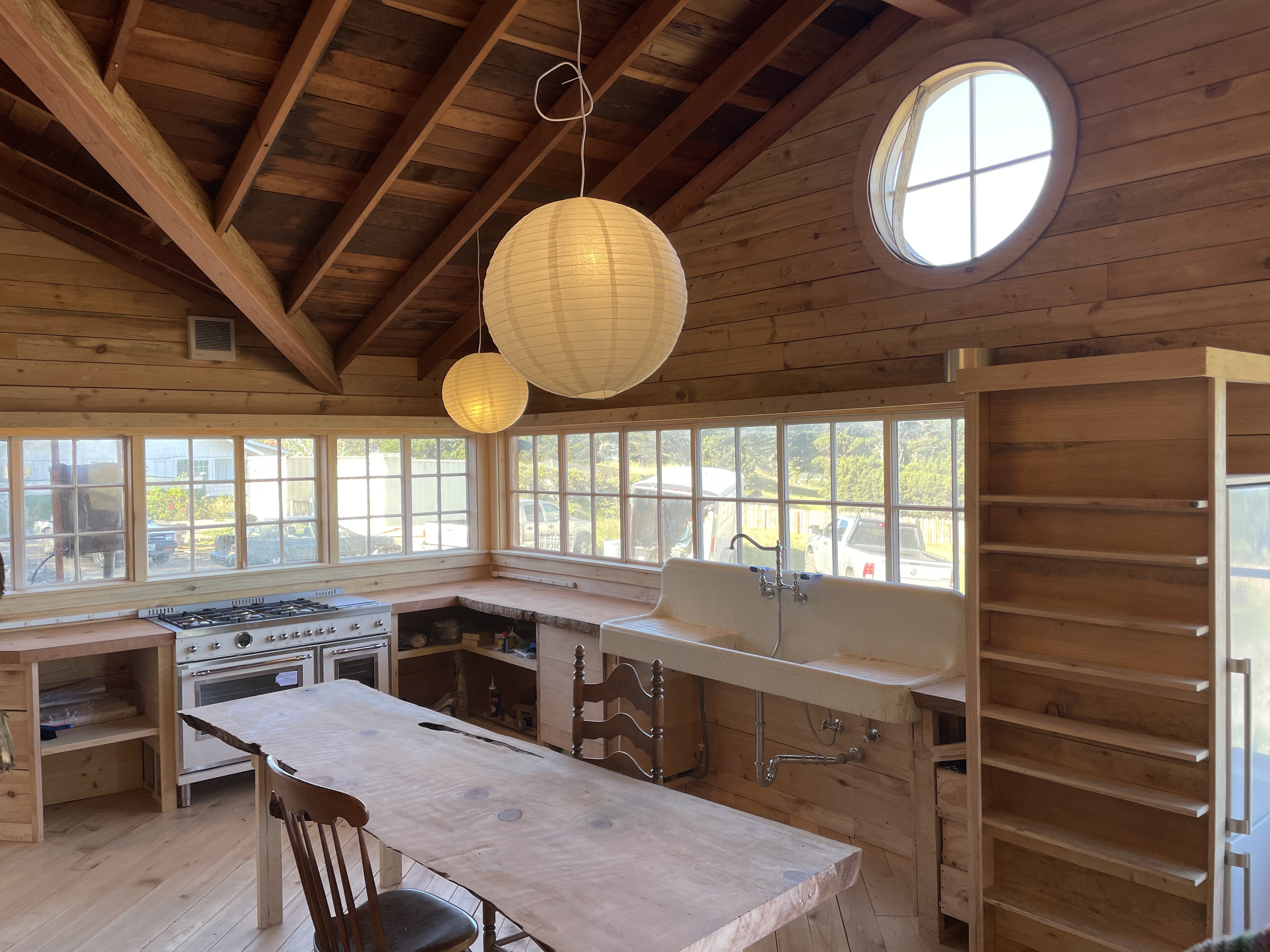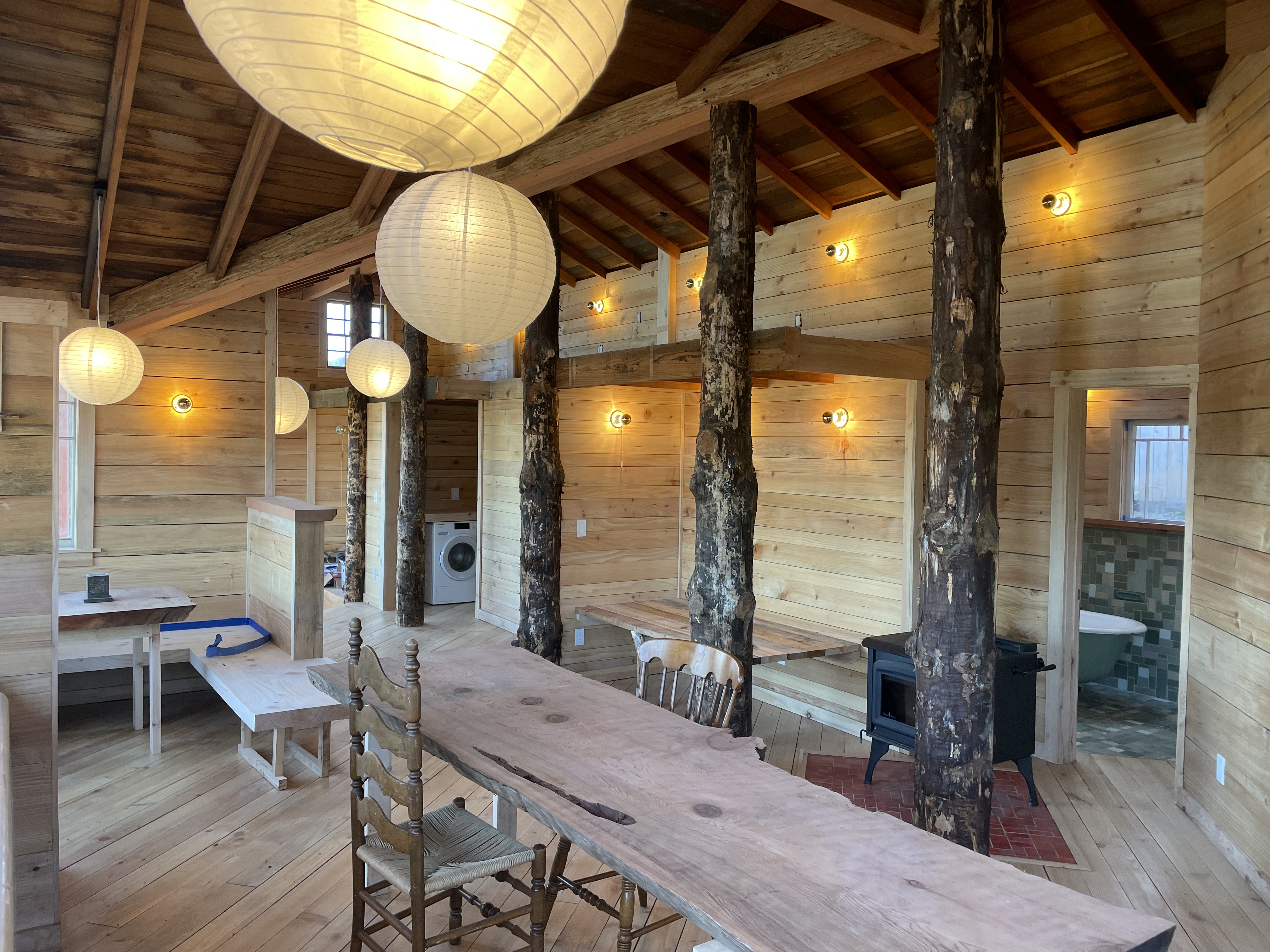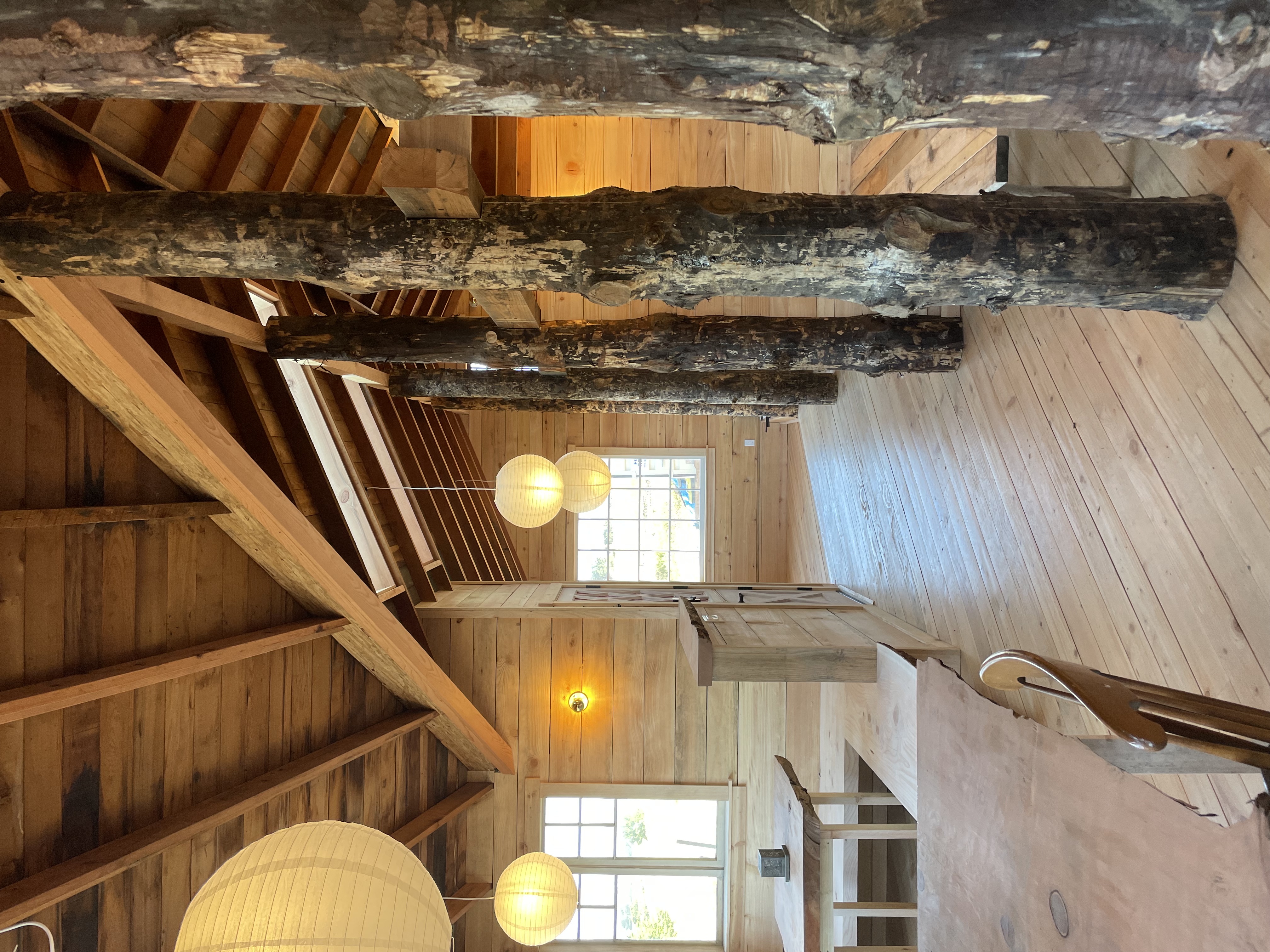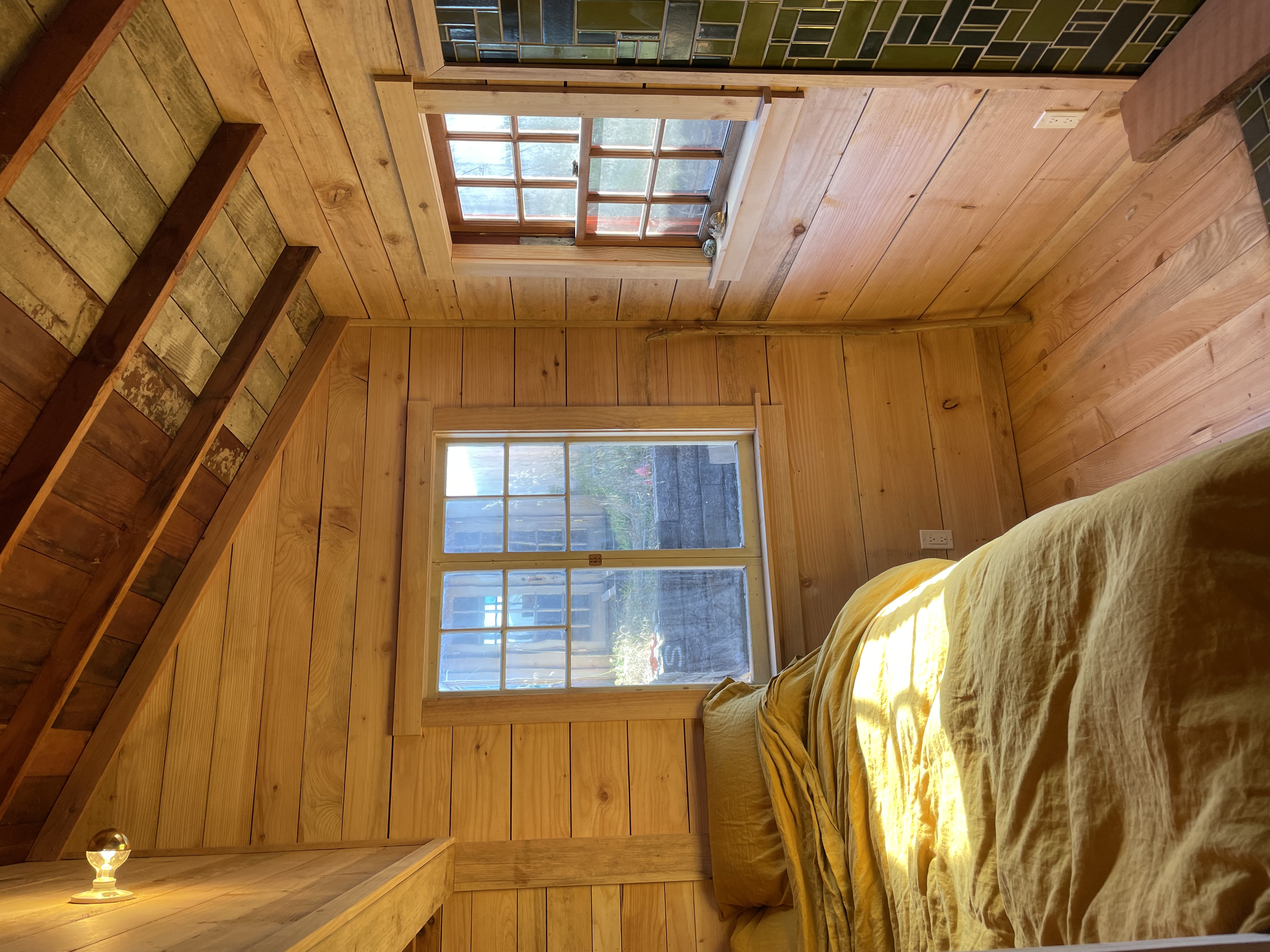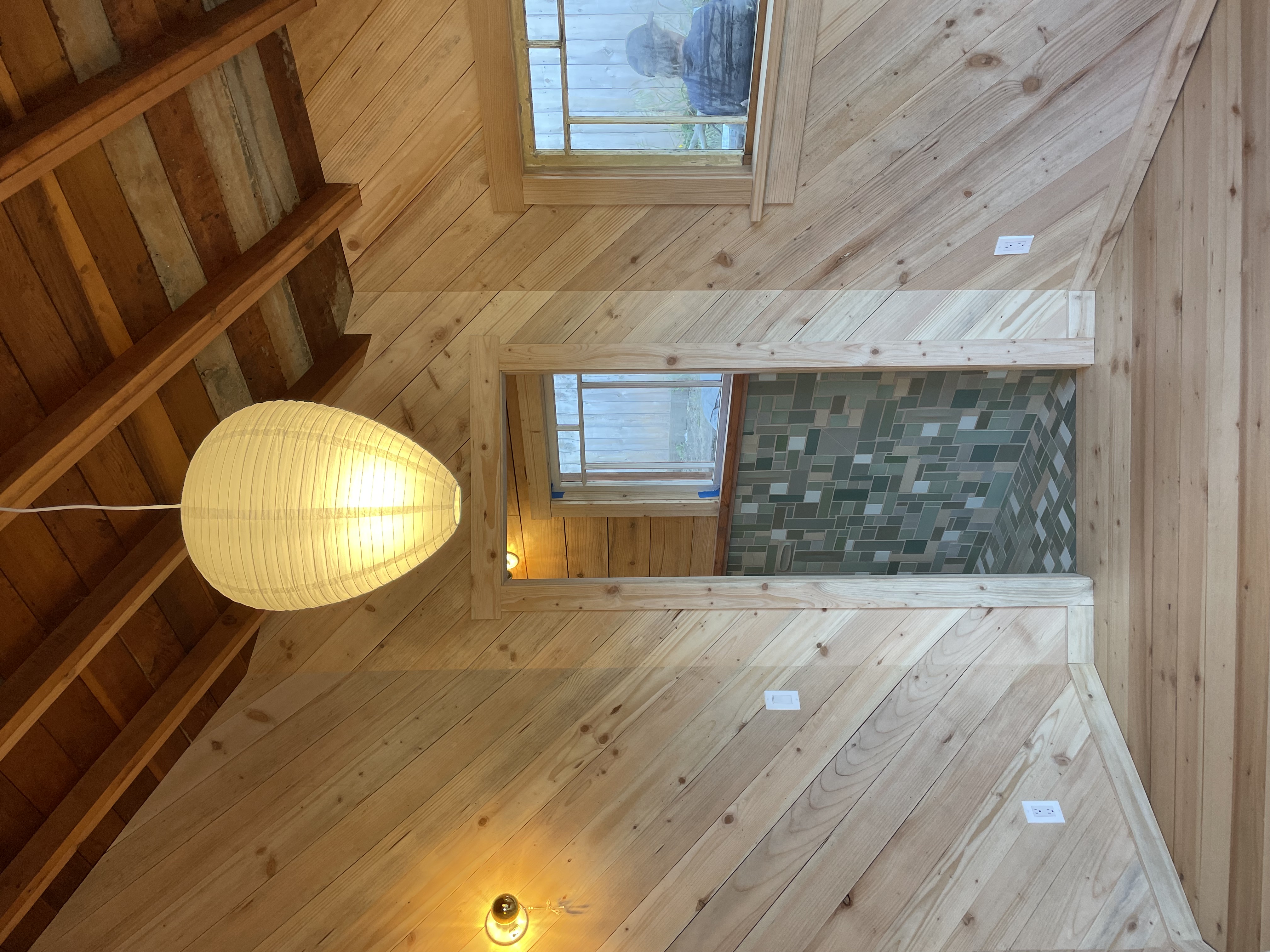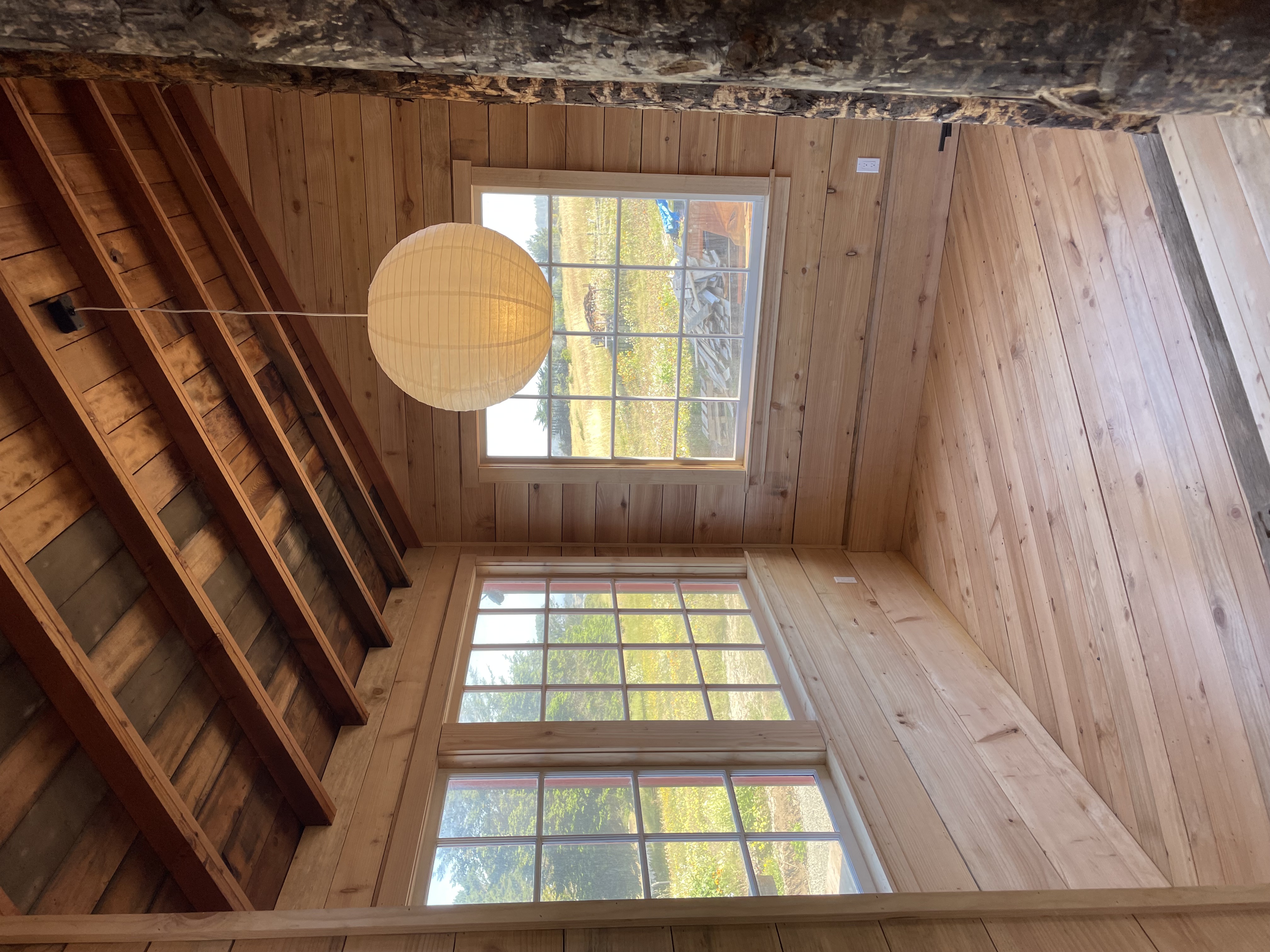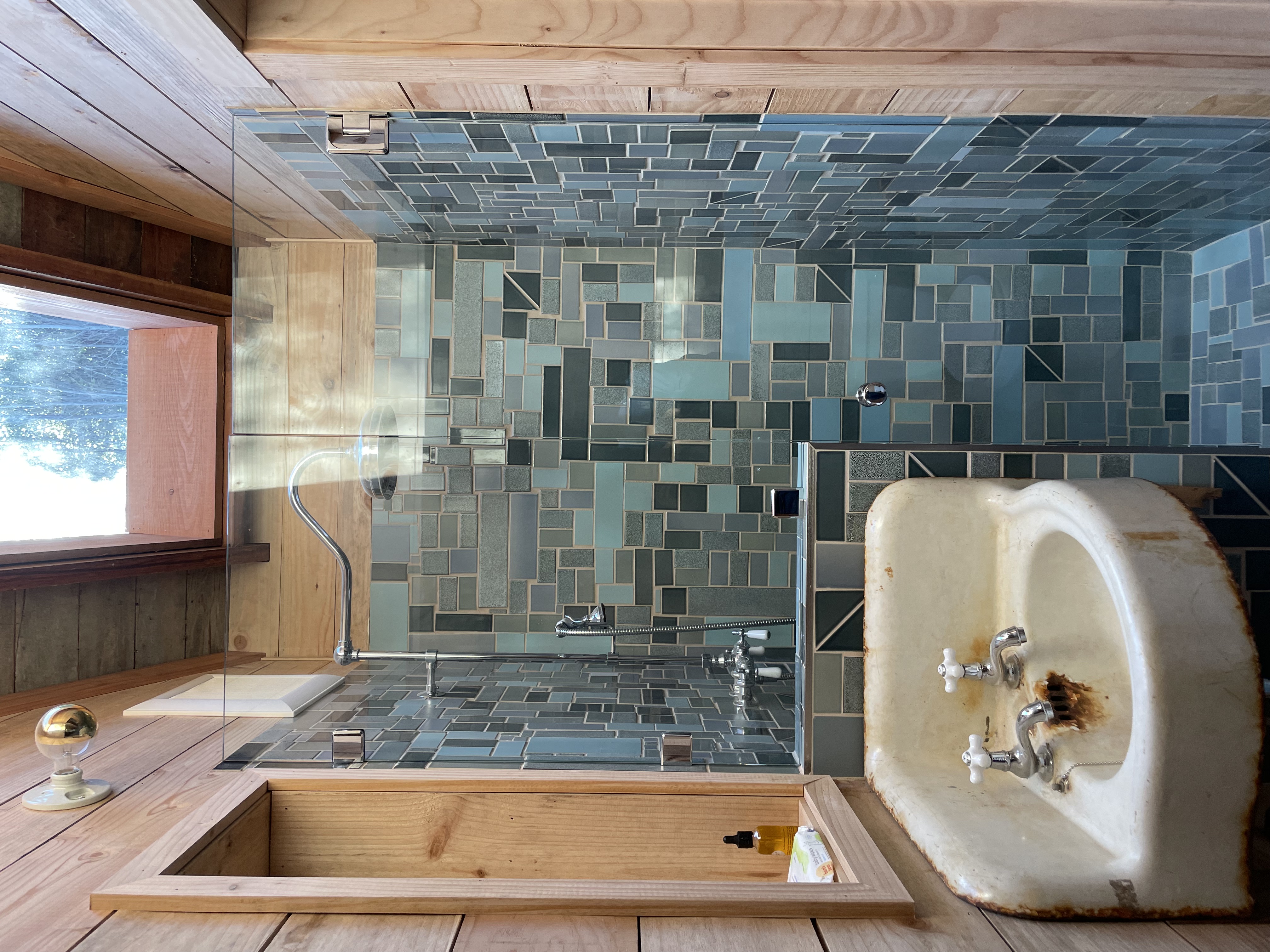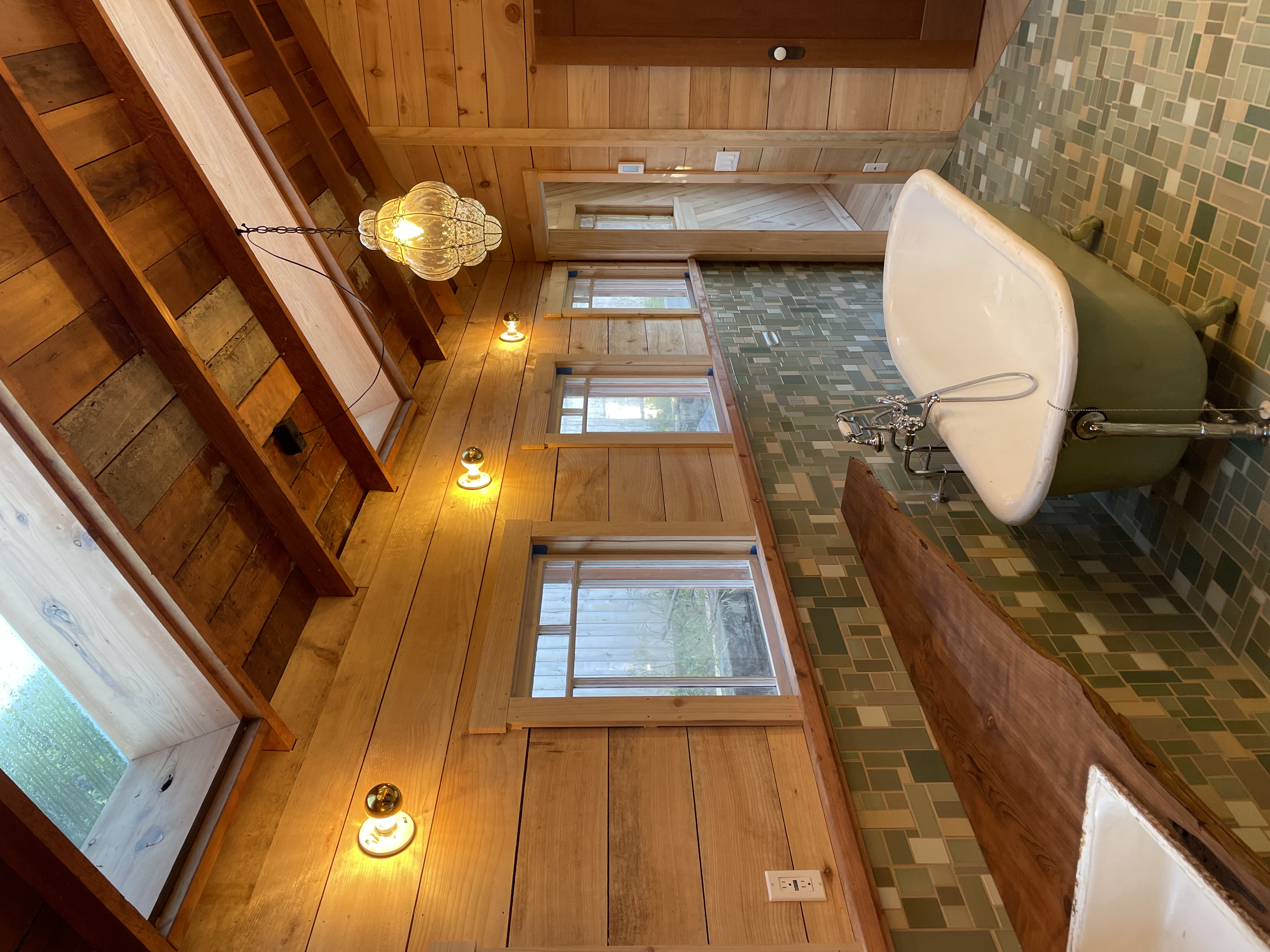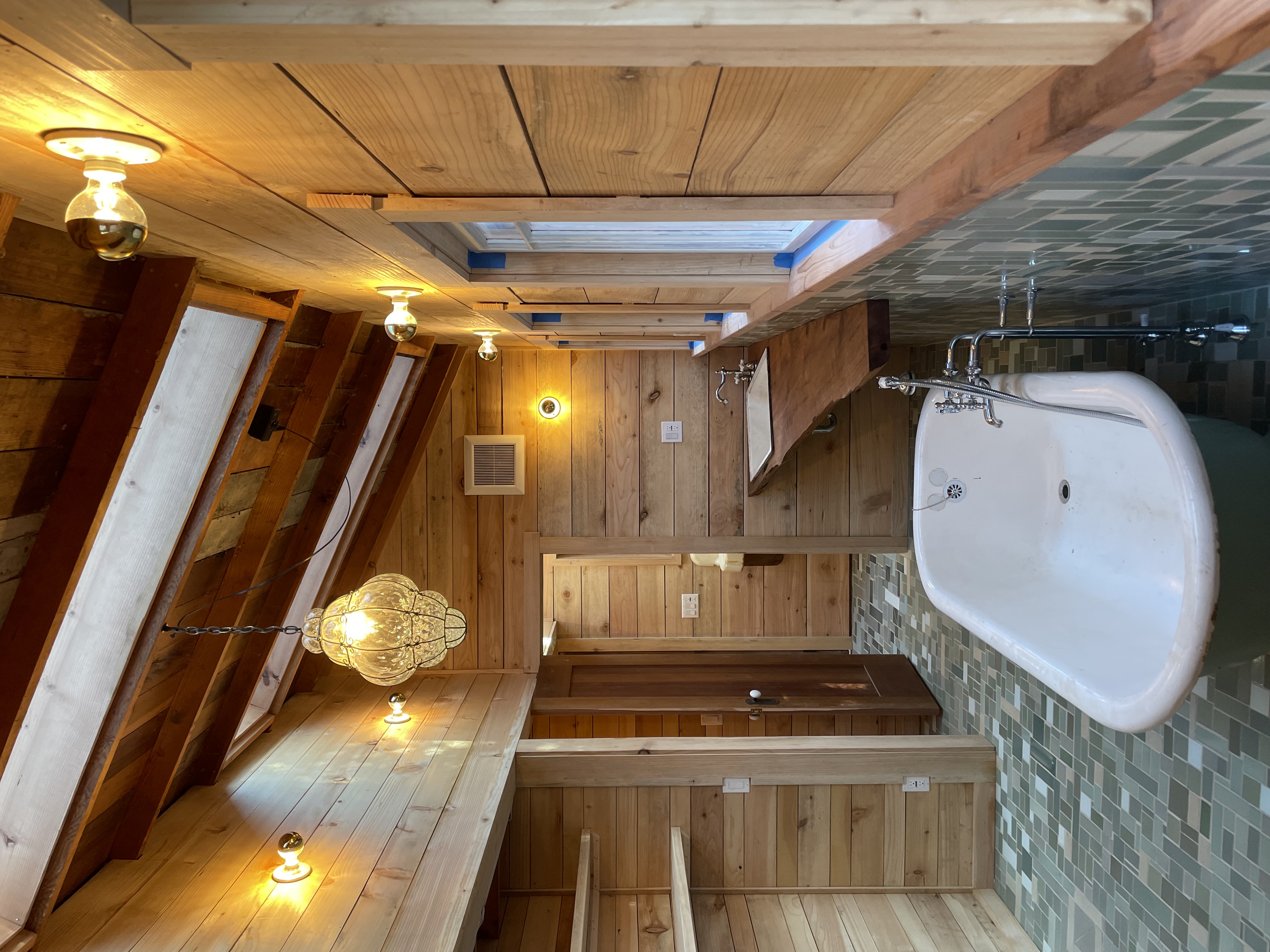 ...a charming redwood cabin dating back to the 1880's on our sister queer land project in the village of Mendocino. It was meticulously renovated in 2022 as the first design project by Salmon Creek Studio. The 1000sq foot cabin is situated at the top of a 1.5 acre west facing meadow with incredible ocean views, just steps from the beach, Mendocino Headlands State Park, and the village of Mendocino. It includes a gracious open common space with a bright gorgeous kitchen, a 12 foot long dining table, and wood burning stove, all looking out towards the Pacific horizon. There are two bedrooms with queen beds, a loft with two more queen beds, a sleeping nook with a twin bed, and the cutest detached 120sq foot cottage with another full bed. There are two bathrooms with radiant floor heating, a clawfoot tub, plus a large south facing bathing deck with a 6ft cedar hot tub, a sauna, and outdoor shower. The house is insulated with sheep's wool, built with repurposed windows and doors, and all the wood is locally milled from family land. Unlike SCF, the cabin has flushing toilets, may host kids, accepts well behaved pets, has a non-vegetarian kitchen, and is available for shorter stays, with a two night minimum. Great for a couple, two couples, and even up to 8 max. $3000/week (Thursday arrivals and Wednesday departures).

︎



We stand against any form of discriminaton based on race, color, national origin, religion, sexual orientation, gender, familial status, age, disability, and source of income.